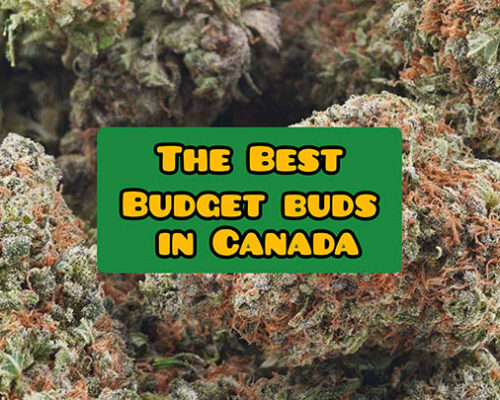 When it comes to buying buds online in Canada the Holy grail has always been the cheap and budget buds. However, it can be a real headache to find the best budget buds especially since there are over 300 hundred online dispensaries in Canada and new ones are opening every day. Read our article and learn how to buy weed from $2 grams, $99 ounces, cheap ounces and bulk prices.
We've designed this article for all Canadians that are looking for Budget Buds. We help you to find the best online dispensaries for your needs. Thanks to our extensive knowledge and research in the Canadian Cannabis Industry we are confident that you will be able to buy low-priced buds once done with this article.
We will start explaining what are budget buds and also where to find them, then we will jump right into the topic with low price buds per gram, cheap weed ounces and $99 ounces. We also give you the best deals and coupons for you to save your bucks!
Budget Buds Frequently Asked Questions
Where Can I get Budget Buds?
Mail Order Marijuana services are the most relevant source for budget buds, some are oriented toward medical marijuana, others for recreational marijuana but in either case, the Cannabis flower remains the same. Most MOM Dispensaries will offer free express shipping on orders over $150. You can then expect to get a delivery from Canada Post within a couple of Days. That is the standard in the Cannabis industry.
Online Dispensaries are probably the favourite way for Canadians to buy their weed, it is fast, safe, cheap with a huge inventory. You can be sure that whatever you are looking for Weed, Concentrates (Extracts), Edibles, THC/CBD products, mushrooms, vape and so on… You will find it. We've listed some of the most relevant Mail Order Weed Dispensaries further in the article.
What is considered Budget Buds?
Budget Buds are simply Cannabis flowers "Weed" that come at a super competitive price, whether you are looking for Sativa, Indica or Hybrid Weed it doesn't matter. You will be able to find your favourite strain for a fair price. What we call Budget Buds are basically:
What Can you Expect for Budget Buds?
Popcorn budget buds. When online dispensaries have high-grade Weed they tend to sell only the largest buds, what is left is usually call "popcorn bud" or "small buds". Once it is in your grinder it doesn't make much difference. It is still AAAA or AAAA+ grade Weed but smaller than what you would expect. Fair enough, you can get these little treats between $70 to $129 for the best quality.
AA/AA+ Grade Budget Buds: this type of cheap weed can cost anywhere between $2-3 per gram to $5 per gram. It can be grown either Indoor or Outdoor, but the point is to shop ounces from $60 to $99. This type of offer is available is widely available from Mail Order Dispensaries in Canada.
High-Grade Weed on Sale: this is probably the best deal you can get when it comes to low price buds, in fact, you can get really high-grade weed for less than $149. The idea is, in order to attract customers and keep them, online dispensaries need to offer the best products. With over 300 online dispensaries you will understand why they need to be competitive.
Best Budget Buds in Canada
All the budget buds below are sourced from trustworthy online dispensaries. The strains below have at least AAA Grade:
Nuken, from Low Price Bud at $80 Oz / $800 Lb
Blue Gelato, from Haute Health at $3,5 Gr / $91 Oz
Gelato, from Budlyft at $99 Oz
Zombie Kush, from BuyWeed247 at $105 Oz / $990 Lb
Weeding Cake, from EG Medicinal at $110 Oz / $1 325 Lb
Alaskan Thunder Fuck, from Cannawholesalers at $140 Oz / $1 100 Lb
Budget Buds Review
We've selected some of the best budget buds available in Canada for you. They all come from the best online dispensaries in Canada and have been reviewed by verified customers.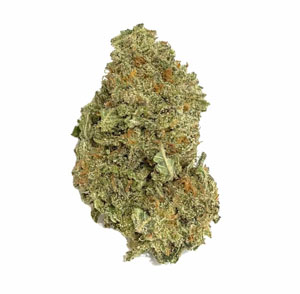 Nuken
Description: Nuken is long-established and a beloved indica dominant hybrid (80% indica/20% sativa) strain created from God Bud and Kush. Generally speaking, this strain registered higher than 20 percent THC. Patients detail how it helps a range of physical and mental conditions, like depression, ADHD, IBS, and muscle spasms.
Review: "Strong fruity floral smell & taste. Received this through a free eighth. Shout out to these people they really care about the customer and it shows."
Price: $80 Oz / $800 Lb at Low Price Bud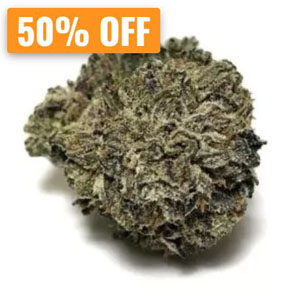 Blue Gelato
Description: Blue Gelato Strain is a mix between Blueberry, Think Mint Girl Scout Cookies and Sunset Sherbet. This indica-dominant is a heavy intoxicating smoke but providing clear effects. Known for its potent and psychedelic effects, Blue Gelato Weed is a fruity mouthwatering strain with an abundance of flavors. Many use it for helping deal with pain and stress.
Review: "Didn't expect this type of bud for the price, you can't go wrong with these type of deals and quality."
Price: $3,5 Gr / $91 Oz at Haute Health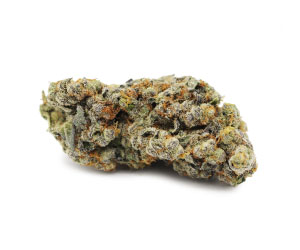 Gelato Strain (AAA) $99/oz SALE
Description: The Gelato strain is a hybrid (55% indica/45% sativa) bred from the popular Sunset Sherbet X Thin Mint Girl Scout Cookies strains. Its buds are large and super dense; dark forest green in colour covered with rich purple and orange hairs with a thick sticky coat of visible resin droplets.
Review: "Great appearance. Massive nugs, only a few popcorns. Very potent and sticky, and smells amazing. Tried it from the bong when it came in and immediately had to do a good review. The best ounce I've purchased was on sale at the time of buying."
Price: $99 Oz at Budlyft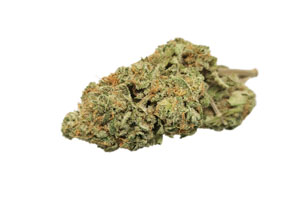 AAA+ Zombie Kush
Description: Zombie Kush is an Indica dominant hybrid strain (80% Indica/20% Sativa) created through crossing the classic Sideral X Bubba Kush strains. Ready to be totally zombified? This mind-boggling strain is the perfect choice to put any restless mind at ease, with relaxing effects that will have you focused and on task before you fade away into slowly building sedation.
Review: "The perfect strain is for insomnia. I'm a heavy smoker with a high tolerance picked up some of this shatter, one hit before bed and I'm out. Wish it came around more often. So sweet in taste too."
Price: $105 Oz / $990 Lb at BuyWeed247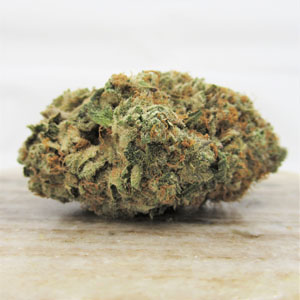 Weeding Cake
Description: Wedding Cake is a hybrid with indica-dominance. It is attained by crossing Cherry Pie and Girl Scout Cookies (GSC). It gives an exceptionally sweet aromatic essence and a fruity flavour. The taste is a perfect combination of sweetness of cookies and fruitiness of a cherry pie.
Review: "First time buyer here. Product looks almost exactly like picture given. Excellent trimming job. Small to medium nugs that are covered with thc that pack a pretty good punch. Breaks up fast and easily. Flower seems a little dry but smokes very well."
Price: $110 Oz / $1 325 Lb at EG Medicinal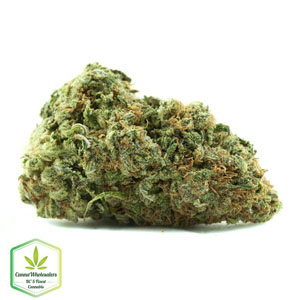 Alaskan Thunder Fuck
Description: Alaskan Thunder Fuck (also referred to as ATF, Matanuska Thunder Fuck or Matanuska Tundra) is a legendary Sativa-dominant strain originating in the Matanuska Valley area of Alaska. According to the legend, it was originally a Northern California sativa crossed with a Russian ruderalis, but sometime in the late 70s, it was crossed with Afghani genetics to make it heartier.
Review: "Very Happy Customer ordered ATF for my first time and it's excellent quality for the price. Enjoying big time the nugs are medium dense sticky as described and the high is amazing. Thank You Will be ordering again very soon!!! … If u see this review twice I'm sorry I didn't think it went thru see I'm buzzed Keep Blazing Stay Amazing "
Price: $140 Oz / $1 100 Lb at Cannawholesalers
Best Sites for Cheap Buds in Canada
Bulk Budget Buds

Pound of Weed

BuyWeed247 probably has the cheapest Bulk Weed available in Canada. If you are looking for Bulk Weed this is one of the places you should check out.

Cheap Ounces from $129

Bulk Budget Buds

EG Medicinal is a really trustworthy online dispensary that has a lot of weed variety. Their price is extremely competitive. If you are looking from an ounce to a pound make sure to check them out.

Budget Buds (small quantities)

Budget Ounces

Haute Health is a reference in terms of budget buds as their price per gram started at $2. Ounces available for $69. Check their Daily Deals section!

Cheap Ounces from $129

Bulk Budget Buds

Low Price Bud is in general really good with dried flowers they have plenty of strains, mix n match offer and Bulk option up to 112gr (4oz).

Cannawholesalers is known for its cheap and bulk weed and hash. Best with Mix n Match offers.

$99 Ounces

Cheap Ounces from $129

Budlyft is a recent online dispensary that has a wide offer of weed, ounces and other cannabis products. $99 Ounces available all year long.
Buy Cheap Buds Online in Canada
This part is dedicated to all Cannabis aficionados that are looking for small quantities including grams, eighth, fourth (or Quads), Half-ounces. These quantities are great for occasional smokers that don't want their weed to completely dry before it gets consumed.
Just as a reminder here are the price you should aim for when it comes to cheap buds for these quantities:
1 Gram: between $2 and $6
1 Eight: between $10 and $20
1 Quarter: between $20 and $40
1 Half: between $50 and $80
When it comes to buying small quantities like this there is mainly one shop that we can think about:
Haute Health, which is probably one of the cheapest online dispensaries in Canada. But you always have value for your money. Grams of weed start at $2 up to $14 for the highest quality. More than the price their weed inventory is impressive and there are always deals available.
Get Cheap Bud Ounces
In this part, we will sum up what we covered in our previous article: Cheap Weed Ounces in Canada. At The PotAdvisor we consider as Cheap Ounce every ounce that are $150 or below. In this price range, you can still expect to shop premium and high-grade weed.
There are a couple of ways that you can get budget bud ounces in Canada. You have the classic one-ounce deals or the mix and match. Mix N' Match is a great way to have High Grade weed for the price of lower weed quality.
Single Cheap Ounces
In this price range, you will find a lot of offers across the web, but you should aim for Mail Order Marijuana Dispensaries that have Quality, Variety and Trust from the Canadian 420 community. In order to check if an Online Dispensary is trustworthy it is simple, take a look at the best dispensaries in Canada just check on Reddit + name of the dispensary and you will find plenty of reviews.
The following shops we've selected have been chosen according to both our experience and the 420 community. You always get value for your money from them:
EG Medicinal has probably the b

est weed you can expect from $150 per ounce and below

. They have a lot of weed strains available in our price range, and the quality is consistent. Last time we tried their cheap weed ounce when ended up with a super dense and full of citrusy terpenes strain. We did a full review of their shop earlier this year, check it if you are curious about the weed you can get from them
Mix n Match for Budget Ounces
A few online Dispensaries are specialized in Mix n Match Weed ounces. It is a great option if you want to try various high-grade ounces for the price of budget buds. If you are a group of friends or a family it can also be a good idea to Buy several ounces. Depending on the weed you are choosing you will often end up paying less than $99 per ounce, but that really depends on the strains' grade you are choosing.
Mix n Match basically works as follows:
10% off 1 ounce
20% off 2 or more ounces
35% off 3 or more ounces
45% off 8 or more ounces
10% off 2 or more 1/4 lbs
15% off 3 or more 1/4 lbs
The Shop we'd recommend for this kind of offer is the following one:
Cannawholesalers is known as one of the OG in the Online Cannabis game. They have a huge inventory of weed strains including sativas, indicas and hybrids. Every strain except strains under "cheap ounces" can be combined in order to get the mix n match price. Please check the full review of Cannawholesales we did: Cannawholesalers Review | Online Dispensary Canada.
Find $99 Bud Ounces
In this part, we will focus on Budget buds that you can buy from below $99 this is the cheapest ounces you will get. We have a dedicated article about this topic: Buy $99 Weed Ounces, so please make sure to check it if you are particularly after $99 Oz.
It is really common to find $99 Bud available at MOMs, but not all offers are equal. This is why we suggest that you follow our recommendations below. If not please search for the online dispensary you are interested in buying from on Reddit and check their customer reviews. Customer reviews never lie!
Here are a couple of Online Dispensaries we've selected for you:
Low-Price Bud is known for bulk concentrates such as live resin and shatter. But they are also highly relevant when it comes to $99 ounces. You have plenty of choices all year long at this price tag.
Budlyft is a relatively new online dispensary but they already have a wide $99 bud inventory available, you can expect to have around 10 different offers at this price. Between pop-corns, mix n match, mystery box or classic weed oz from your favourite strain, you will find what you are looking for.
Save Big With Bulk Buds
Bulk Weed is another alternative to buy budget buds. For Buds what is considered as Bulk or Wholesale are quantities from a pound. We've dedicated another article about this topic earlier this year: Buy Pound Of Weed.
But let's elaborate a little bit about bulk weed. If you smoke on a regular basis and ounces only last a few days buying a pound of weed can be a great option. Same as for Mix & Match, if you buy with friends that can end up a really good deal for you.
Bulk Buds Price
Just for you to know when it comes to buying Bulk Buds the price you should aim for is:
Bulk price for a pound of AA+/AAA Buds: between $1,000 and $1,300
Bulk price for a pound of AAA+ Buds: between $1,300 and $1,500
Bulk price for a pound of AAAA Buds: between $1,500 and $2,100
Median Average for a pound of Buds: $1,500
Shop Bulk Budget Buds
If you want to get Budget Buds in Bulk we suggest that you find pounds of weed around $1500, this way you will still have top-shelf quality and a fair price.
We recommend that you try the following online Dispensary for Bulk Budget Buds:
BuyWeed247, they have a category that is dedicated to Wholesale. Here you can find all their Bulk offers. Not only Weed but also Concentrates and all kinds of cannabis products. Bulk offers start from quarter-pound up to 2 pounds. And you will see that the price is changing a lot from a quantity variation to another. These are truly great deals. Pounds are available from $980 for AAA+ grade!
EG Medicinal, more than cheap weed ounces they also have bulk and wholesale offers. Bulk offers are available for pretty much all their budget buds. They have a Pound of weed from $900 as well up to $2 200.
Low Price Buds Coupons & Offers
Because budget buds are great but it is even better when you can add some coupons to it we've prepared a list of coupons available at the different online dispensaries we've been talking about. Please take into consideration that often when you buy $99 ounces or cheap ounces you cannot combine it with coupons.
However, you never know what you will end up buying, maybe budget buds, maybe top-shelf weed, maybe edibles or concentrates so we prefer giving you the best deals available in their stores. We always try to save you money!
What is your take on Cheap Buds in Canada?
Because we don't think we know everything, your opinion and knowledge are important to the community.
According to your experience is there a better way to get cheap buds in Canada?
What is your favourite dispensary for cheap buds and what is the price you get from them?
Please share your experience and tips with our community. Everyone wants to get the most out of their bucks so help everyone to benefit from your expertise. Please add your comments and observations in the comment area below!