Moonrock joints are the perfect mix between Cannabis flowers and concentrate products. If you're looking for an enjoyable way to experience cannabis without the hassle of rolling it yourself or want to try something new then you should try Moonrock Joints!
Check out our blog post to learn what moonrocks joints are and how Moonrock products differ from traditional marijuana. We also give you a complete buying guide for those interested in trying it, from the average price, online dispensaries where you can buy Moonrock joints to exclusive coupons and deals. By the end of this article, you will be masters of the Moon Rock Joint!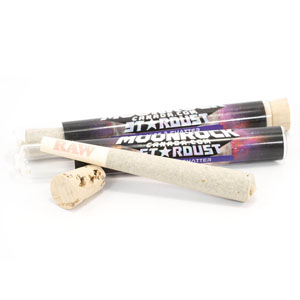 What is Moon Rock?
Some people are wondering "What are Moon rocks joints made of?" and the answer is quite simple. Marijuana Moon Rocks is a mix of Cannabis flowers and marijuana concentrate. To make moonrocks bud, a weed bud is dipped in hash oil (CO2 extract) and then again rolled in kief. The cannabis concentrate can help those who suffer from ailments such as anxiety to feel calmer while also being extremely high in THC. Moonrock's dank euphoria offers delicious flavours that people will love like the sweet taste of mangoes.
Moon Rock usually comes into various flavours such as Original, Strawberry, Blueberry, Vanilla, Caramel, Peaches and Cream, Pina Colada, Watermelon, Grape, Banana Split, Strawberry Cheese Cake, Blueberry Crumble.
Moonrock in Canada is also the country's leading moonrocks company, manufacturing products since 2016. Their journey began with a passion for innovation and creativity in cannabis concentrates making them one of Canada's most sought-after cannabis brands.
Moonrock was born out of an interest to create new ways to express artistry in cannabis concentrates production which has led their brand recognition as being among the best there are today while still providing batches at great prices that everyone can enjoy.
Pre-Rolled Moonrock Joints
Moonrocks come in preroll form as well. They are a convenient way to enjoy moonrocks on the go, without the mess of having to craft them yourself.
What is the Classic Moonrock Pre-roll Joint about?
Moonrock Preroll Joints are handmade with flavoured premium AAA Nug, Honey Oil (CO2 Hash oil) and Golden Kief.
The THC content of each pre-roll is between 55% and 65%
Depending on the option you choose each joint contains either 1/2gram or 1gram worth of marijuana flower. They're perfect for those looking for quality cannabis with high THC levels.
Just like Moonrocks pre-roll have 13 different flavours (see the above)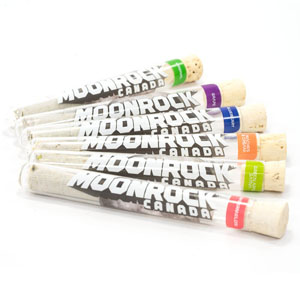 Different Types of Preroll
Different types of Moon rocks pre-roll are available online:
Cosmic Pre-roll Blunt, 1.1 Grams of premium AAA Cannabis flower, honey oil and golden kief. Same amazing flavours as Moonrock regular preroll just wrapped in a special (non-tobacco) slow burn blunt paper.
Moonrock 'Stardust' Shatter pre-roll, consists of a Hybrid AAA+ bud, blended in honey oil/ golden shatter and premium kief making this the most potent pre-roll product in our Moonrock Canada line. 70-75% + THC Shatter range!
Cosmic Solar Flares Pre-Roll,  contain 4 X 1.2G Premium Cannabis Pre-rolls. You can choose between Sativa, Indica and Hybrid bud strains.
Marijuana Moon Rocks Joint Price
Moonrock joints are now widely available for sale in Canada. The price varies based on the amount of flower, type of concentrates and paper used.
Prices are ranging from $14 up to $25 for a single pre-roll joint. You can also find bundle offers with 6 or 13 pre-roll.
Here is the detailed pricing for all types of joints from Moonrock Canada from the cheapest to the most expensive.
Moonrock 1/2G Pre-roll is available at $14
Moonrock 1G Pre-roll is available at $26
Cosmic Blunt 1G Pre-roll is available at $29
Moonrock Stardust Shatter 1G Pre-roll is available at $30
Moonrock 1/2G Pre-roll 6 Bundle is available at $75
Moonrock 1/2G Pre-roll 13 Bundle is available at $170
Moonrock 1G Pre-roll 13 Bundle is available at $333
Cosmic Blunt 1G Pre-roll 13 Bundle is available at $363
Please note that Online dispensaries are often crafting their own Moonrocks for a cheaper price. You will even find the Moonrock Canada products 50% cheaper than the official price when buying from specific online dispensaries in Canada, more about this below!
Buy Moon Rocks Pre-roll joints
If you want to Buy Moonrocks Pre-roll joints online your best option is Online Dispensaries also known as Mail Order Marijuana (MOM). They are the cheapest sources for moonrock pre-rolls!
MOM dispensaries offer everything a marijuana connoisseur might need, including an impressive selection of strains, concentrates like shatter, wax, budder as well as edibles such as cookies or brownies. In short, all the cannabis products you need!
The best thing about ordering from an online dispensary is the convenience of having whatever it is that you need to be delivered straight to your door in a discreet package with no one knowing what's inside, perfect for those who have roommates or live in close proximity to their neighbours!
Buy Moonrocks Pre-roll joints from the following best MOM Dispensaries today:
BC Weed Edible has pre-rolled Moonrock joints at $18, you can also Mix and Match 3 Joint for $48. The Moonrock Pre Rolled Joint is made using the original and flavoured moonrocks, consisting of an OG bud, rolled in honey oil, and powdered with kief. Each Order Includes 1 Pre Rolled Moonrock Joint. Check it!
BuyWeed247 has 2x 1gram Moon Rock Joints (Indica) that you can buy for $25. Ice Cream Kush flower packed tight end to end, rolled in 0.5 grams of High-terpene full-spectrum extracts (HTFSE) and Terp sauce and powdered in 0.5 gram of Mix Indica Kief. Check it!
CannabudPost also has the same kind of offer with 2x 1gr Moon Rock Pre Roll Joints for $25. You can also find it on sale for $18. A Moonrock pre-roll consists of 0.9-1.2 grams of cannabis buds (usually Girl Scout Cookies hybrid, or a mixture of hybrid and indica strain) dipped or blended in premium quality CO2 hash oil and sprinkled with kief. Check it!
Moon Rocks Pre-roll joints Coupons & Deals
Buy Moonrocks Joints Online with our exclusive deals and coupons! Save up to 20% on your order with our coupons, or check out the promotion below to see if there are any other savings you can take advantage of before making your purchase!
Moonrock Preroll Review
You will find below reviews that we've been able to gather around the internet from the best MOM dispensaries in Canada. Share your experience with us in the comment section below!
Review for Moon Rock 1gr Pre-roll Review from Harry rating 5/5: "I tried Moonrock Premium Prerolls while in Vancouver, BC and they're a quality pre-rolled joint. I really enjoyed how the packaging is resealable to keep it fresh for later use – with no need to carry around a ziplock. It's also great that Moon Rock has plenty of different flavors like Grape Ape, Blue Moon Bliss and Moon Madness. It's always fun to mix up the flavours of your joints!
So if you're rolling with a group or just like to try new things, Moonrock Prerolls are perfect for you. I plan on bringing these back home with me when I return from my Rockies trip – Moonrock is the best!"
Canada Lunar Bundle Review from Cindy 5/5: "These moonrock joints burn for a VERY long time. Just like their moonrock counterpart. Six of these are 1.3 grams of cannabis, full spec honey oil and beautiful golden kief, one is a cosmic blunt – which is a moonrock joint in a special blunt and the 8th is a Stardust Moonrock joint, which is 1.3 grams of cannabis, beautiful golden kief and shatter 😜.
The ash was always perfectly grey, and the taste on all of them is amazing! Featured here is the strawberry moonrock joint. It was very fruity tasting, with strong hints of a strawberry taste. The flavours were very natural, and I have enjoyed them all. And let me tell you, the effect was always fantastic! (They use a 50/50 hybrid for their joints.).
I will say that there was a lot of smoke, as you would get with a moonrock. So make sure you are prepared! I would most definitely recommend these, to smoke alone or responsibly share with friends."
Moonrock Stardust Shatter Pre-Roll Review from Bobo 5/5: "I had a lady friend come for a visit 😀 we smoked 1/2 of the blueberry and I haven't had a complete body stone in 35 years until I smoked that!!!! see you when I get back"

Enjoy Smoking Moon Your Rocks Joint
We hope you find this article helpful and that it helps to answer any questions you may have about Moonrock Pre-roll Joints. If there are other topics related to marijuana in Canada that interest you, please check out our resources page for more information on Buying Weed or Concentrates as well as a list of the best online dispensaries in Canada. And don't forget to use one of our offers or coupons before buying shatter from an online dispensary!