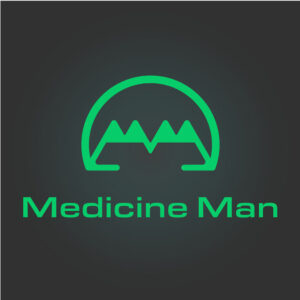 Medicine Man is an online dispensary that delivers anywhere in Canada. Located in Calgary, the dispensary provides local weed delivery in the city. All the other provinces throughout Canada are delivered with Canada Post. Medicine Man put the accent on the quality of their products with fair & honest prices, but also on their customers' service which is the first priority of the dispensary. Besides, Google's reviews are very positive since the dispensary has a very good score of 4,9 stars out of 281 Google reviews, which gives trust to new customers.
The Medicine Man's menu is varied with a lot of different products (flowers, edibles, concentrates, distillate cartridges, vape-pens, mushroom edibles, CBD & even bath and body or pet products). In this review, will check this product variety with 3 specific products such as flowers, edibles, and a vape-pen for three different uses and sensations, and finally, will score Medicine Man between 0 and 10. Will Medicine Man get as high score as the google reviews ?
The minimum order amount for local delivery is 50 $, which will drop down to $30 after the first order. There are no delivery fees. For Canada-wide orders it's super easy to buy your weed with them, you just need to order pay with etransfer and get your free delivery for every order above $99, you can expect to have your order to your doorstep within a couple of days with Canada Post.
Medicine Man Review: Cannabis Variety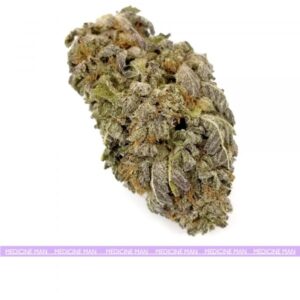 Medicine Man enables you to choose your flowers among a variety of 29 products and two grades of quality from AAAA to AAAAA, which provide very high quality. The dispensary has a range of prices from 30 $ an eighth up to 240 $ an ounce to adapt your budget according to your needs. With 6 categories of weed (Premium Connoisseur, Trip Special, Sativa Hybrid, Sativa, Indica hybrid and Indica), this dispensary is a good place if you are looking for specific strains that provide different effects.
Some of their popular strains are:
$40-140 La Confidential
$40-240 Banana Breath
$30-200 Orange Crush
Depending on the product, you can buy from an eighth to an ounce.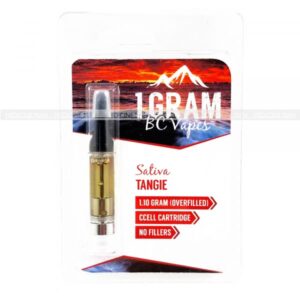 You can find over 30 different types of distillate cartridges including 14 BC vapes, 14 Milky Way Extracts and 5 High Voltage extracts. Among these 3 main brands in this category and as their edibles, Medecine Man carries a lot of distillate cartridges from a large variety of high quality strains with THC or CBD for different smells and aromas. Most of their products are guaranteed with no chemical ingredients and minimum free of MCT and PG. All the distillate products are sold for 60$ a full gram.
Here are some of their most popular cartridges products:
$60 Full Spectrum Honey Oil – Blue Dream BC Vapes
$60 Death Bubba High Voltage
$60 Wedding Cake Milky Way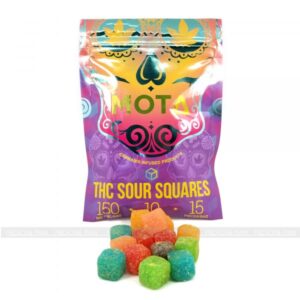 Medicine Man carry over 40 edibles products. There is something for every taste : gummies, chocolate, spray, caramel and baked goods such as brownies or cookies. Prices start from 10$ up to 90$. Even vegans can find their happiness with 6 kind of chocolate bars !
Here are some of their most popular concentrate products:
$40 Sativa Shatter Vegan Mint Dark Chocolate Bar 500mg
$15 Medi Fruit Blocks 150mg
$30 Scottish Toffee Tablets 300mg
Medecine Man does not have the widest range of edibles, but still carries an interesting variety of products and tastes.
Medicine Man: Products Review
For this review, we tested 3 products from 3 different categories (a strain, an edible product and a THC Distillate Cartridge) with consequently different prices and effects : Purple God Weed, Mota THC Sour Squares and Jack Herer BC Vapes THC Distillate Cartridge.
Genetics: Purple God is a super rare indica dominant hybrid strain (70% indica / 30% Sativa) vreated trhought crossing the potent God X Hawaiian X Purple Skunk strains.
Potency: 15-32% average THC level
Cost: $42 for 3.5 gr / 260$ an oz
Appearance: Purple God boasts dusty green buds that fluffy, shaped as spades and dark-green and purple flowers. The strain is loaded with frosty white THC crystals with bright orange hairs and a coating of frosty thick amber crystal trichomes which provides a sticky effect to the touch.
Aroma: It aroma is earthy, pungent, fruity and spicy. The taste is also fruity and spicy, with herbs and grape.
Effects: Purple God is a great strain for treating depression, insomnia, muscle spasms, anxiety, chronic pain and stress and gives strong body effects. Generally, it starts with an euphoric boost that is hazy and makes you lose focus. Your body starts to tingle and you become relaxed, couch locked and very sedated. Soon, you'll feel yourself drift off into a deep and peaceful sleep.
Dosage: Mota's Sour Squares Gummies containing 150mg THC. Each square contains 10mg THC (15 pieces per bag). It also exists a CBD version with 300 mg in the whole package, each square contains 20 mg CBD.
Cost: 150 mg version is 13,50 $.
Ingredients : It contains Corn Syrup, Water, Constarch, Citric Acid, Natural and artificial flavours, cannabis and artificial colour. 
Appearance: Those gummies look like compact and tiny squares, with a sugar coating. Be careful if you have children home, because they look really sweet, colorful and appetizing. They converse very well their color and appearance for several weeks.
Aroma: There are five different colors of squares in the package, we guess one of each for a different taste.
Effects: In the package, there is no information about the species, but the strain seems to be hybrid. Those gummies are a perfect option for treating insomnia, pain, or to kick your stress or anxiety for the day.
Jack Herer BC Vapes THC Distillate Cartridge
Genetics: This cartridge contains organic 90%+ THC distillate with Jack Herer hybrid strain (55% sativa and 45 indica).
Potency: 
Cost: 50$ for 1gram cartridge without the pen
Smoking Experience : With the cartridge, the pen is really thin and discreet, easy to take with you everywhere. It works as an electronic cigarette, with a main button. For a better smoking experience, it's better to hold the button press few seconds to get dense smoke. The aroma of the distillate cartridge is very pleasant and fragant. Tree puffs are enought to enjoy the effects depending on your use.
Aroma: This strain features fruity and woody flavors. You will note a hint of of citrusy-spice, with lemon and orange bursts.
Effects: Considered an ideal daytime or after work strain, Jack Herer weed is best saved for a moment long before bedtime – otherwise, you might find yourself tossing and turning all night, trying to fall asleep. The strain has been known for being particularly effective in assisting individuals who struggle with depression and anxiety, as well as those handling chronic stress, PTSD, or ADHD.
Medicine Deals and Coupon Reviews
Medicine Man provides a fair price and good quality products. Their customer's service seems to be their first priority and their deals give you the opportunity to receive free products rather than to save up money which can be an appreciated way to test something else. If you are looking for offers and deals just before purchasing you should take a look at the following:
Buy 3 of any concentrate and get $5 off each
Buy 2 ounces and get them for $180 each
Spend $100 and receive a free joint tube holder
Spend $200 and receive a free pipe, free pre-roll, or 60-80mg edible
Refer a new customer to us and receive $20 off
New customers receive a free pre-roll or 60-80mg edible
Note: Most deals may be used cooperatively, so long as both deals' criteria are adequately met.
Medicine Man Review Overall Experience
Pros
For $200 oz get AAAA+ quality
A wide variety of products (flower, edibles, concentrates, vapes, CBD, etc)
Local delivery available, you can text them to place an order
Free Expedited shipping on orders over $99 and free Xpress shipping on orders over $149
Cons
They don't sell vape pens
Distillate cartridges are a bit pricey in comparison to other online dispensaries
Notation
Price 8/10
Quality 9/10
Variety 7/10
Customer Service 10/10
Final Score: 8,5/10
Medicine Man is definitively a dispensary that we recommend. With a wide range of products for different effects and medical treatments, fair price and very high quality of flowers, it is really easy to find the right fit for your need whether you are looking to medicate or just enjoy some products for recreational reasons. If you are looking for AAAA or AAAAA buds with a reasonable price, Medicine Man is the perfect place, even if they might not have the largest inventory. The many positive reviews and feedbacks are also a pledge of confidence essential to buy online.