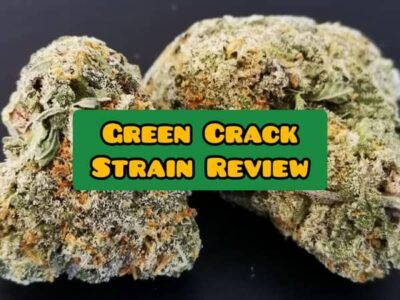 Strain Description:
Originally called "Cush", this strain was re-dubbed "Green Crack" by none other than cannabis connoisseur Snoop Dogg after he sampled its intense sativa effects. Green Crack's origins are disputed — originally bred in Athens, GA in the 1970s, it is descended from the ever-popular Skunk #1, but it may also have some Afghani landrace indica in its background.
Genetics:
Green Crack is a sativa-dominant hybrid (65% Sativa/35% Indica) that was bred by inbreeding Skunk #1.
Potency:
With its powerful 15-25% average THC level ensures that you'll feel uplifted for hours to come. Green Crack is known for its energizing effects.
Appearance:
This version of Green Crack is offered by BuyLowGreen
Green Crack has a classic Indica bud structure with dense and tight buds, almost like little rocks covered in white trichomes. The leaves are pale green to yellow, although the pigments in some phenotypes can cause some leaves to be streaked with purple when plants are exposed to cold during the growing process. Rust-colored pistils stand out against the colorful flowers.
Aroma:
This visual appeal is matched by a dynamic scent. Cured properly, the flowers have a bright citrus scent with mellow undertones of earthiness and wood. For this specific bath the scent was one of the best I've experienced, it is between a lemony smell and cheesy smell which are two strong scents that can also be found when you smoke it.
Effects:
This strain provides strong Indica effects with a hint of Sativa. you can expect the following effects from OG Kush:
Recreational Effects: The high is decidedly cerebral, with a big mood boost and a jolt of energy. This strain spurs creativity and helps patients get things done. This strain is meant to be Cerebral, Creative, Energizing, Focus, Happy.
Medicinal Benefits:It's most effective in treating anxiety and depression, along with ADHD, PTSD, and migraines.
Flowering time & Yield:
Patients and consumers looking to cultivate Green Crack themselves should wait for 7 to 9 weeks for their indoor plants to finish flowering. The yield of this plant when indoor is about 18 ounces per square meter.
Buy Green Crack Strain:
Green Crack is part of the most popular weed strains in Canada in 2020 so it should not be a problem to find it in your local dispensary. However, if you are looking for a fair price you should take a look online and buy from the best online dispensaries in Canada. BuyLowGreens carry some Green Crack at the moment. Before buying from them take a look at our Buy Low Green Coupon Codes and save 10% on your order!
Green Crack Strain Overall Score
Notation
Appearance 9/10
Aroma 9/10
Flavor 9/10
Effect 8/10
Final Score: 8.25/10
Final Thoughts
GreenCrack is one of the marijuana strains that you can smoke during day time without a problem, you will feel energized and inspired most of the time. Green Crack is a perfect example of what Sativa strains have to offer. If you never tried it before you should get some and share it with some of your friends!