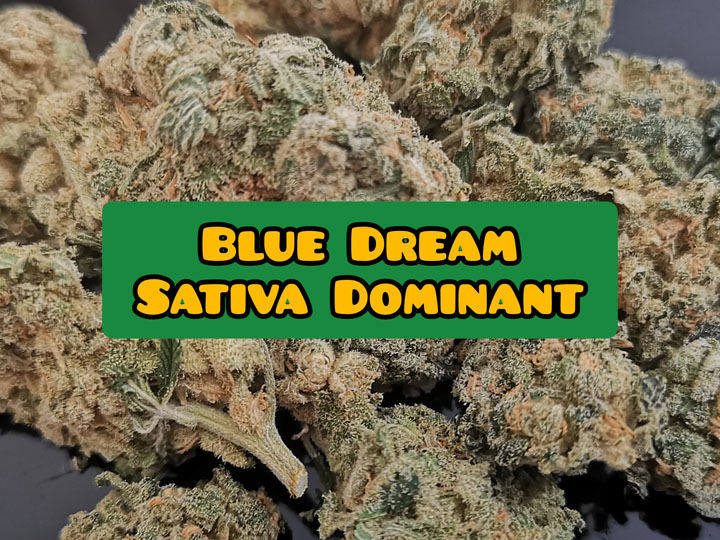 Strain Description:
Blue Dream, a Sativa-dominant hybrid originating in California. It's a Crossing between Blueberry and Haze. Unable to contain its popularity, the strain has exploded in popularity in the last few years and has reached the status of legendary strain among stoners. Blue Dream is both great for medicinal value as well as recreational value. When smoked, it creates an invigorating head-high which promotes both creativity and activity. It's also one of the long-lasting strain.
Genetics:
Blue Dream is a slightly Sativa dominant hybrid (60% Sativa/40% Indica) strain that is a potent cross between the popular Blueberry X Haze strains.
Potency:
With a relatively high THC range from 17-24%, this dreamy bud has more than just good looks and flavor to bring to the table.
Appearance:
This AAAA version of Blue Dream came from SpeedGreens
The buds tested are average-sized and quite dense. When grown with care and love the plant can create massive nugs that are also incredibly dense. As you can see in the above pictures nugs have a lightish green color and are accompanied by a thick frosty blanket. Orange Pistils are also visible among the nugs even if the white coat is the primary thing visible. This strain from Speedgreens looks really appetizing.
Aroma:
Blue Dream has a delicious aroma of sweet blueberry pie and a taste of sugary sweet blueberries that stays on your tongue long after smoking. The noticeable terpenes are Myrcene, Caryophyllene, and Limonene
Flavor:
Much like the smell, Blue Dream's flavor is a floral berry with some almost 'purple' notes at times (grape, flowers) — some expressions are heavy on the floral, almost hitting a lavender note.
Effects:
Users describe the Blue Dream high as having an immediate onset of an uplifting cerebral head high that leaves you completely motivated and focused with waves of creative energy that hit quickly and hard. This is accompanied by a mellow relaxing body high that leaves you warmed, numb, and completely pain-free.
Recreational Effects: you will experience Creativeness, Energizing, Euphoria, Happiness.
Medicinal Benefits: these effects give Blue Dream an edge in treating Stress, Anxiety, Chronic Pain, Depression, Headaches, Inflammation, Nausea.
Blue Dream Strain Overall Score
Notation
Appearance 9/10
Aroma 8/10
Flavor 8/10
Effect 8/10
Final Score: 8.25/10
Final Thoughts
Blue Dream is one of the most popular weed strains in the market. You can't go wrong when buying this one, as a slightly Sativa dominant it fits perfectly for both day and nighttime use, its effects are great if you want to be creative while painting or composing music.