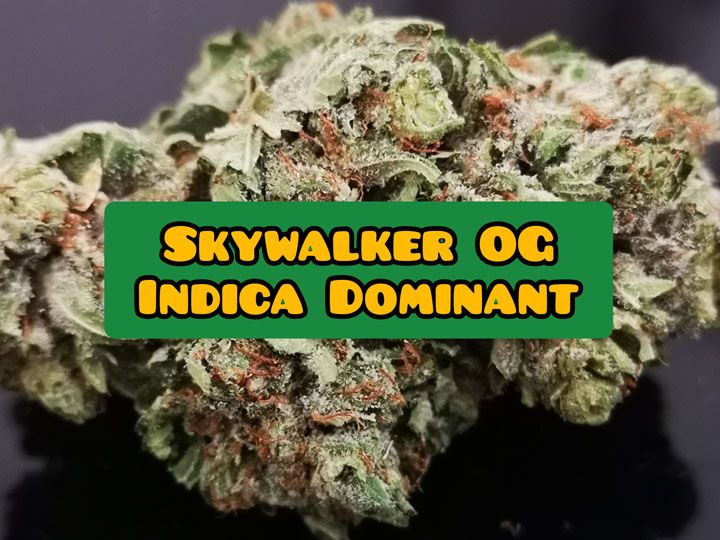 Skywalker OG Strain Review
Strain Description:
A dank and potent strain, Skywalker OG offers a super relaxed high with a nice blend of hybrid effects. If you're hoping for an intergalactic adventure, Skywalker OG will be your co-pilot. An instant high that's super heavy, you'll feel properly stoned after a hit or two. Experience your body completely fusing with the couch and leaving you relaxed and happy. A happy high is coupled with intense munchies, so keep the snacks right next to you to avoid having to move.
Genetics:
Skywalker OG is an Indica-dominant beauty (85% indica/15% Sativa), which is a potent cross between the hugely popular Skywalker X OG Kush strains.
Potency:
This strain boasts a powerful THC count, ranging from 20-25% on average. Skywalker OG Kush, isn't for beginners, as it offers an intense high that comes on quickly.
Appearance:
This version of Skywalker OG is offered by SpeedGreens
This bud has is slightly above medium-sized and dense round olive green nugs with burnt orange furry twisty hairs and rich orange undertones. These nugs have a fine layer of milky white trichomes.
Aroma:
The terpene profile of the Skywalker OG strain is incredibly inviting. It typically carries a noticeable piney aroma, presumably from the OG Kush in its genetics. The noticeable fragrance are Citrus, Fruity, Pine, and Spicy.
Flavor:
Much like the smell, Skywalker OG's flavor is Citrusy, Fruity, Piny, and Spicy.
Effects:
Skywalker OG high as a very heavy stoney high that leaves you utterly couch-locked, relaxed, and lethargic with an almost overwhelming case of the munchies. This is accompanied by a head-in-the-clouds euphoric head high that fades into a deep and peaceful sleep upon the come down.
Recreational Effects: you will experience Euphoria, Happy, Relaxing, Sleepy.
Medicinal Benefits: ideal strain for treating patients suffering from conditions such as chronic stress, pain due to injury or illness, and mild to moderate cases of depression.
Skywalker Strain Overall Score
Notation
Appearance 7/10
Aroma 7/10
Flavor 7/10
Effect 7/10
Final Score: 7/10
Final Thoughts
Skywalker OG is currently one of the most popular weed strains in Canada and when you read this review you understand why. You can buy this strain with closed eyes you won't be disappointed, as an Indica dominant be ready to sink on the sofa to watch your favourite Star Wars movie. This strain is ideal for night time use, due to its high THC content it has great sedating and relaxing effects.