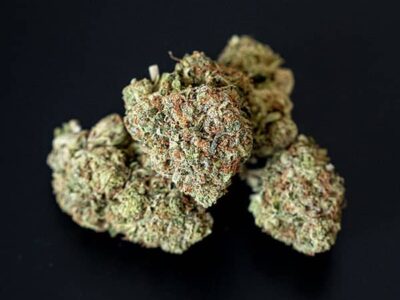 Strain Description:
Death Bubba is a potent strain that bears its name very well, known to leave consumers in a walking coma -if you're able to stay awake – or to offer the deepest and restful sleep. Created and bred in Vancouver by Sea and Sky, it is a trademark of Canadian cannabis connoisseurs and beyond.
Genetics:
By crossing Bubba Kush and Death Star, Deah Bubba is an Indica dominant hybrid strain (70% indica, 30% sativa).
Potency:
Death Bubba has an impressively high THC level ranging between 25% and 27%THC and sometimes can reach as high as 29%!. Its high rate probably explains why it knocks users out.
Appearance:
This version of Death Bubba is offered by SupHerbs
Buds are more or less elongated, medium in size, and relatively dense. Covered with a thick layer of white trichomes and brown hairs on dark forest green nugs, we can also see purple undertones. Dark olive green leaves are also covered white trichomes.
Aroma:
Death Bubba is this kind of strain with forest smells: a mix of musk combine with grass and skunk and a hint of pine. A spicy and lemony note also makes its smell complex, but very pleasant. You can also feel this touch of spicy lemon and its earthy taste when you smoke.
Effects:
If this strain offers you a boost of energy, motivation, and creativity, it will sink you into your thoughts and progressively in a sort of coma until you fall asleep.
Recreational Effects: Death Bubba is best used in the evening, before bed, or after work. This strain is meant to be euphoric, happy, hungry, relaxing, and sleepy.
Medicinal Benefits: With its high potency, this strain is especially recommended to treat disorders such as chronic pain, depression, insomnia, migraines, ADD/ADHD, nightmares, stress, loss of appetite, and spinal cord injury.
Flowering time & Yield:
Patients and consumers looking to cultivate Pineapple Express themselves should wait for 8 to 9 weeks for their indoor plants. Due to its Indica roots, this plant doesn't grow too tall and can approximately produce 10 to 12 ounces of flowers. With an outside grow, flowering can be expected in October and experienced growers can get yields of up to 12 ounces of buds.
Buy Death Bubba Strain:
If you are looking for a fair price you should take a look online and buy from the best online dispensaries in Canada. Supherbs carry some Death Bubba at the moment. Before buying from them take a look at our Supherbs Coupon Codes and save 10% on your order!
Death Bubba Strain Overall Score
Notation
Appearance 8/10
Aroma 8/10
Flavor 9/10
Effect 9/10
Final Score: 8.5/10
Final Thoughts
Death Bubba is a very potent weed that we recommend to consume in peace, whether for recreational or medical purposes. It is not intended for everyone, but rather for experienced consumers who are not afraid to get carried away by this strain rich in THC … until deep sleep.