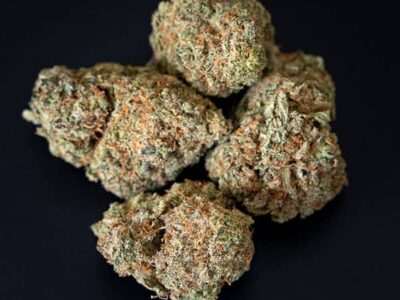 Pineapple Express Strain Info
Strain Description:
Became famous thanks to the film by James Franco and Seth Rogen of the same name, the Pineapple Express is a cross between Trainwreck and Hawaiian. This notorious strain is a well-balanced sativa dominant hybrid being used in social circles, but also to treat a lot of disorders.
Genetics:
Pineapple Express is sativa dominant hybrid strain – 40% Indica / 60% Sativa. Good to know : a separate phenotype of Pineapple Express was also created with a higher CBD content, specifically for the direct assistance of individuals handling severe medical conditions
Potency:
Its THC levels typically range in the 16-26% range of THC, so its high bringing effects are quite strong and powerful.
Appearance:
This version of Pineapple is offered by Supherbs
The strain is offered in the form of little rocks of different sizes and relatively dense. Buds have a fairly dense green color that contrasts well with the rusty orange pistils. The crystals are more discreet visually at first glance, but very present as soon as we look more closely.
Aroma:
Pineapple Express strain has a unique and distinctive smell. Fruity and floral it smells funky with its citrus, apples, and tangerines overtones and takes you straight to the tropics. The taste is not sweet but quite extraordinary with a hint of pineapple, while you inhale each puff. When you breathe out you can pine and woodsy tastes which complement this subtle taste.
Effects:
This strain is a perfect match to feel energized while observing an increase in focus, awareness, and creativity or to treat a lot of disorders :
Recreational Effects: The strain is not as intense as the movie has made it out to be – Pineapple Express still manages to offer a mild and nice body-numbing buzz, which is something to look forward to. This strain is meant to be calm and stimulate at the same time, perfect to be energized, focus, and happy.
Medicinal Benefits: Pineapple Express is chosen to treat a lot of medical ailments including chronic pain, depression, fatigue, loss of appetite, migraines, nausea, and nightmares.
Flowering time & Yield:
Patients and consumers looking to cultivate Pineapple Express themselves should wait for 7 to 8 weeks for their indoor plants to finish flowering or mid-October if you are growing outdoors. The yields of this plant or typically high promising around 18 ounces per square meter indoor and 19 ounces per plant outside. It is considered an auto-flowering strain.
Buy Pineapple Express Strain:
Pineapple Express is part of the most popular weed strains in Canada in 2020 so it should not be a problem to find it in your local dispensary. However, if you are looking for a fair price you should take a look online and buy from the best online dispensaries in Canada, Supherbs often carry AAA+ Pineapple Express, make sure to check it out. Before buying from them take a look at our Supherbs Coupon Codes!
Pineapple Express Strain Overall Score
Notation
Appearance 8/10
Aroma 9/10
Flavor 9/10
Effect 8/10
Final Score: 8.5/10
Final Thoughts
You've probably heard of this very popular and beloved strain before. If you haven't tried it yet, know that it's used more often for recreational purposes, especially great for boosting energy and creativity. It also has significant medical benefits to suit various different uses.