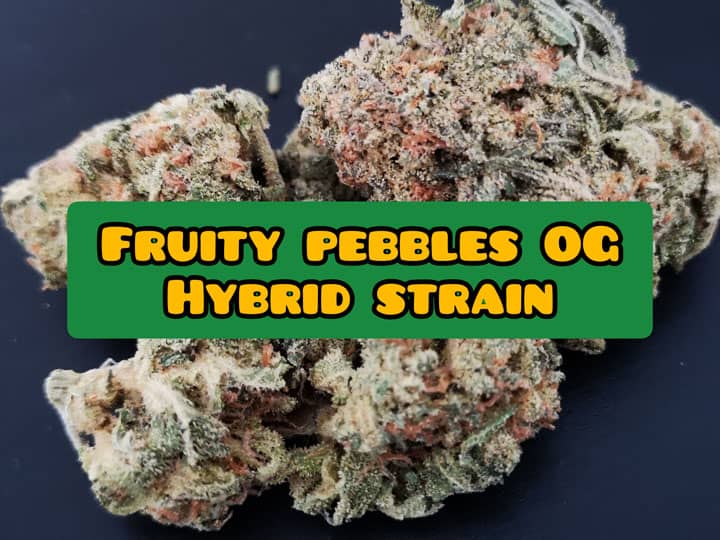 Fruity Pebbles OG Strain Info
Strain Description:
Fruity Pebbles OG is also known as Fruity Pebble or FPOG. Strains going by the name Fruity Pebbles have circulated since at least 2006, particularly in dispensaries in California. It has been created by breeders at the infamous Alien Genetics cannabis farms. As an OG strain, the flavor resembles much as the originals yet delivers a wide spectrum hybrid effect with a greater flavor pallet.
Genetics:
FPOG is a slightly Indica dominant hybrid strain (55% indica/45% sativa) strain created through crossing popular Green Ribbon, Granddaddy Purple, Alien Kush and Tahoe OG strains.
Potency:
FPOG boasts a moderate THC content level, ranging from 18% to 21%,  THC percentage can even go as high as 22.5%.
Appearance:
This version of Fruity Pebbles OG is offered by Cannabismo
For this version of the FPOG, the buds are average sized but the density is impressive, these are strong, thick nugs. The coloration is quite standard, with nice light green and a massive coat of trichomes which whitened the flowers. We can also notice the classic orange pistils over the nugs but the frosty coat is taking most of the attention here.
Aroma:
The tropical scent boasts notes of citrus, berry, and sugar which might make you want to dig in your nozzle. Fruity Pebbles fragrance is one that overpowers, wafting through the air and escaping the package before you even crack it open. This bud tastes exactly like a bowl of FPOG, a sweet, tropical berry, and smells just as good! The dominant terpenes in the FPOG are Limonene (Citrus), Myrcene (Fruity), and Caryophyllene (Spicy). The terpene profile will vary according to the growing method, FPOG can also carry Humulene (Hopy) or Linalool (Lavender).
Flavor:
Taste-wise, you can expect pretty much the same as the aroma. Powerful tropical flavors and fruit berry blends together with the bitter taste of burnt wood. The velvety smooth smoke is easy on the throat and glides with relative ease, allowing an enjoyable experience that's neither overpowering nor lackluster.
Effects:
Fruity Pebble's effects are both enjoyed by the medical and recreational patient:
Recreational Effects: you will experience relaxation, euphoria, and creativeness. Soft but strong body buzz that can provide relaxation and some spacey, psychedelic effects. Many fans of the strains describe a strange physical sensation and a sharpening of the senses and a heightened awareness that can lend itself to stimulating conversation, creative projects, or even exercise.
Medicinal Benefits: this strain can be effective for pain, mood disorders, migraines. Indica-leaning strains are in general very helpful in relieving insomnia and easing stress and anxiety.
Flowering time & Yield:
FPOG grown indoors can be expected to yield an average of about 16 ounces per square meter. This strain takes around 8 to 9 weeks to flower and be ready for a generous harvest.
Buy Fruity Pebbles OG:
Fruity Pebble OG is not the most common weed strain in Canada, you might have to run some research before you can find it at the grade and price that suits you. Cannabismo carries some FPOG at the moment and has a great discount Cannabismo Fruity Pebbles OG. Don't pay full price and take a look at Cannabismo Coupons before buying.
Fruity Pebbles OG Strain Overall Score
Notation
Appearance 9/10
Aroma 8/10
Flavor 8/10
Effect 9/10
Final Score: 8.5/10
Final Thoughts
FPOG might not be the most popular weed strains in Canada but is definitively worth trying. With a moderate THC content and a good balance between physical and mental effects, Fruity Pebbles OG is a good strain to smoke for both daytime and nighttime. If you are creative or need a little help for your next artwork FPOG will be a game changer!