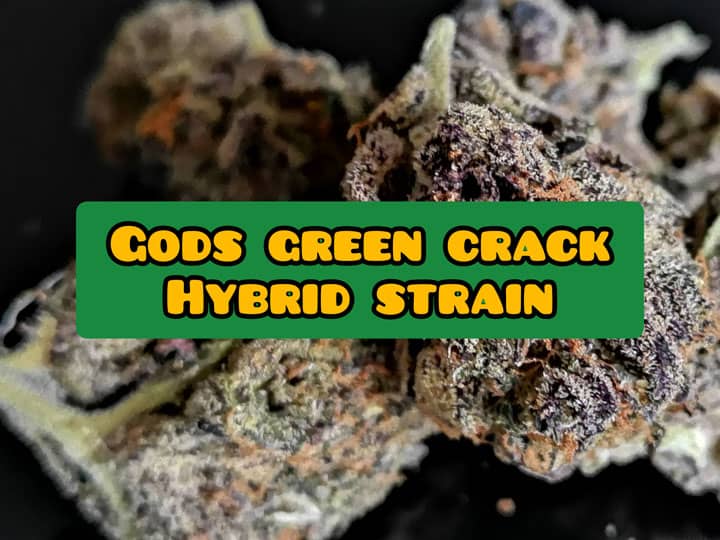 Gods Green Crack Strain Info
Strain Description:
God's Green Crack is a balanced hybrid strain bred by Jordan of the Islands, who wanted to lighten up the heavy effects of God Bud with a high-flying Green Crack Sativa. The indica and sativa parents work together to deliver a duality of head and body effects that lift the mood while relaxing muscles. This strain is perfectly suitable for daytime because it helps to keep alert and energized throughout the day.
Genetics:
GGC is a slightly Indica dominant hybrid strain (55% indica/45% sativa) strain created through crossing God's Gift and Green Crack strains.
Potency:
Its THC content has been measured at high levels, ranging from 19% to 25%, this hybrid strain offers up a cerebral intensity and a rejuvenating body-high.
Appearance:
This version of Gods Green Crack is offered by Herbapproach
The first thing you notice when you look at it is the purple color, which makes this strain really appealing. Its buds take on a deep purple coloration toward the end of its maturation, especially when raised in lower temperatures. More than the Purple color the buds are covered with trichomes giving the nug an amazing frosty coat. Nugs are average-sized, dense, and dry.
Aroma:
As you break apart each tiny little nugget, you can find aromas of tangy fruits and an earthy/woody scent. The terpene profile for this strain includes Caryophyllene (spicy/pepper), Limonene (citrusy), trans-Nerolidol (Floral).
Flavor:
You'll be hit with an herbal, fruity taste with a noticeable hint of fresh berries and mango undertones. When God's Green Crack is burnt in a pipe or a joint, it gives off a thick and incense-like smoke that is nevertheless very easy to inhale. The smoke tastes woodsy and slightly floral. Despite its purple hues, this strain does not have any discernible grape flavors.
Effects:
God's Green Crack's effects are appreciated by both recreational and medical consumers:
Recreational Effects: you will experience a lot of energy, euphoria, focus, and creativeness. This weed gives a lot of energy, and focus. You will be able to process things fast when you are high on GGC.
Medicinal Benefits: GGC is often chosen to treat conditions such as chronic fatigue, depression, ADD or ADHD, migraines, pain, and nausea or appetite loss.
Flowering time & Yield:
Plants tend to grow short and bushy and may need to be pruned occasionally by gardeners. Those looking to bring out the strain's purple potential should briefly expose their crops to cold (but not freezing) nighttime temperatures around the 6-week mark. God's Green Crack flowers within a brief 7 to 8 weeks. Our best estimate of its yield per square meter is around 12 to 16 ounces.
Buy Gods Green Crack:
GGC is easily one of the best sellers of weed in Canada in 2020. While it can be hard to find it in your local dispensary you will be able to find it quite easily on the internet when buying from online dispensaries. Take a look at Herbapproach, there GGC is AAAA Grade and the price is affordable Gods Green Crack. Don't pay full price and take a look at Herbapproach Coupons before buying.
Gods Green Crack Strain Overall Score
Notation
Appearance 9/10
Aroma 8/10
Flavor 8/10
Effect 9/10
Final Score: 8.5/10
Final Thoughts
The Gods Green Crack is currently one of the most popular weed strains in Canada. With a high THC content and a sublime balance between physical and mental effects, God's Green Crack makes a good all-purpose smoke. It's enjoyable for cannabis newbies and veterans alike. This weed is also perfect for a day time use, it will give you a boost of energy when you need it the most!