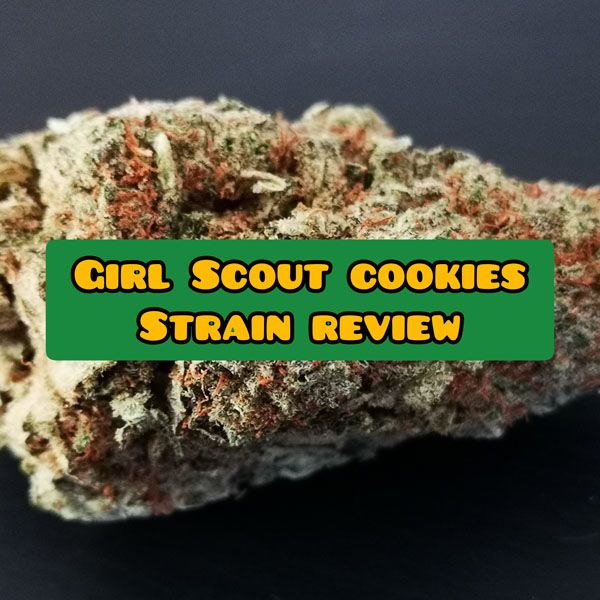 Girl Scout Cookies Strain Info
Strain Description:
GSC (formerly known as Girl Scout Cookies) is a Cannabis Cup award-winning strain comprised of OG Kush and Durban Poison and is perfect for an after-dinner treat or a nightcap.
Genetics:
Girl Scout Cookies is an Indica-dominant hybrid with a strong Sativa component (40:60 sativa/indica ratio). This strain began as a crossbreed of OG Kush and Durban Poison x F1.
Potency:
This strain can reach THC levels of up to 28%, meaning it's one of the most potent strains available to medical marijuana patients.
Appearance:
This version of Girl Scout Cookies is offered by Weed Deals
This AAAA+ Grade Girl Scout Cookies has buds that are above average-sized and extremely dense. This is one of the denser weed I have tried so far, the bud in the picture weighs over 4grams which is a lot even for an above-average sized bud. The fiery orange hairs and bright purple leaves make it just as pleasing to the eye as it is to the palate. At first opening of the bag the sweet, earthy aromas hit your nose and only grow sweeter as you break apart the buds.
Aroma:
GSC has a really strong smell, once you opened your bag you can be sure your place will smell the sweet and earthy perfume of weed for a couple of hours. Don't take it with you at work or in transport or people will naturally sniff in your direction searching for your precious GSC! Apart from this really strong scent, GSC aromas are Earthy, Nutty, Pungent, Spicy, Sweet and Vanilla.
Effects:
This strain provides the best aspects of both Sativa and Indica you can expect the following effects from GSC:
Recreational Effects: The high is powerful, happy, and euphoric, but with couch-lock body effects and feelings of lethargy. Cerebral, Creative, Euphoria, Relaxing are the main effects of this strain.
Medicinal Benefits: GSC is said to be effective at treating anxiety, stress, and depression, though it's also good for appetite.
Flowering time & Yield:
Patients and consumers looking to cultivate this cannabis staple themselves should wait for 9 to 10 weeks for their indoor plants to finish flowering. The yield of this plant is about average, though in really stellar conditions you might be able to squeeze out a bit extra.
Buy GSC Strain:
Girl Scout Cookies is part of the most popular weed strains in Canada, consequently it easily relatively easy to find it in your local dispensary. If you don't have a local access to it you will find it easily in reliable online dispensaries. Herbapproach carries some AAAA GSC at the moment: Girl Scout Cookies. Don't pay full price and take a look at Herbapproach Coupons before buying.
Citrique Strain Overall Score
Notation
Appearance 10/10
Aroma 10/10
Flavor 8/10
Effect 8/10
Final Score: 9/10
Final Thoughts
As part of the best strains in Canada you have to try the GSC at least once in your life, and who knows it might become your favourite strain after that! With its extremely high THC content and strong effects, GSC has a perfect balance of powerful physical and psychedelic effects and sweet cookie flavor. GSC has been in the market for over a decade now and is part of the Classic strains, which is now used in the latest strains genetics.