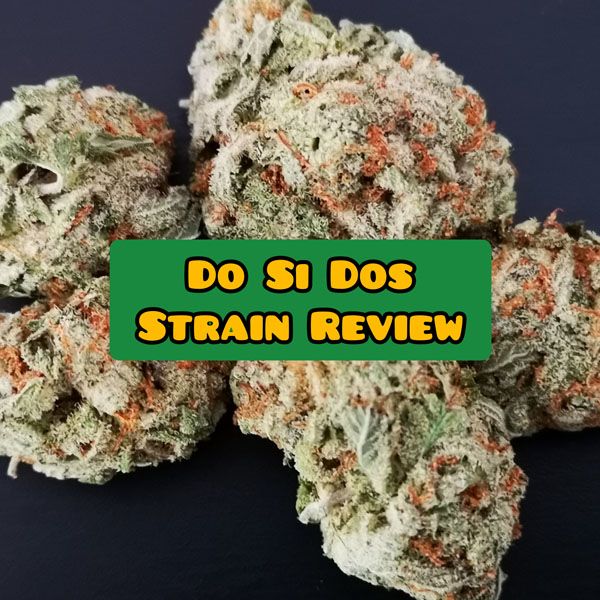 Do-Si-Dos Cookies Strain Info
Strain Description:
Do-Si-Dos is named in the tradition of its parent strain the Girl Scout Cookies. Do Si Dos is a soothing Indica hybrid. This bud combines aromatic Girl Scout Cookies and the body-melting indica, Face Off OG. The product is a pungent and well-balanced strain whose effects seem to last longer than average.
Genetics:
Do-Si-Dos is an indica dominant hybrid (70% indica/30% sativa) strain created through crossing the potent Girl Scout Cookies with Face Off OG.
Potency:
Just as the GSC this strain it super powerfull, THC levels can reach up to 30%, meaning it's easy to overdo it but it is also one of the most potent strains available to medical marijuana patients.
Appearance:
This version of Do Si Dos is offered by Speed Greens
This AAAA Grade Do Si Dos has small buds almost popcorn-like with high density. What these flowers lack in size, they make up for in color, Do-Si-Do buds have conical olive green nugs with bright amber hairs and a sticky coating of sweet syrupy resin that coats each and every bright frosty white trichome.
Aroma:
Do-Si-Dos smells sweet, almost fermented odor. Also present are some dank, earthy notes. Meanwhile, grinding up these tight buds gives off some skunkiness, providing evidence of the OG Kush in this bud's lineage. This smoke is said to taste simultaneously fruity and skunky on the exhale. Discreet consumers should keep in mind that Do-Si-Dos' pungency can carry for quite a distance.
Effects:
This strain provides the best aspects of Indica with a hint of Sativa. you can expect the following effects from Do Si Dos:
Recreational Effects: Do-Si-Do high hits you fast and hard with a cerebral rush of euphoric energy that lasts for only a few moments before fading into a happy stoney introspection. Body High, Euphoria, Happy, Relaxing, Sleepy, Uplifting are the main effects.
Medicinal Benefits: Do-Si-Do is said to be perfect for the experienced user suffering from conditions such as insomnia, chronic pain, nausea, and depression.
Flowering time & Yield:
Patients and consumers looking to cultivate this cannabis strain themselves should wait for 8 to 9 weeks for their indoor plants to finish flowering. The yield of this plant is massive with about 16oz/square meters.
Buy Do-Si-Dos Strain:
Do Si Dos is relatively hard to find in your local dispensary even if its popularity is growing fast, especially online. If you don't have local access to it you will find it easily in the most popular online dispensaries. SpeedGreens carries some at the moment: Do-Si-Dos. Don't pay full price and take a look at SpeedGreens Coupons before buying.
Do Si Dos Strain Overall Score
Notation
Appearance 8/10
Aroma 9/10
Flavor 8/10
Effect 8/10
Final Score: 8.25/10
Final Thoughts
As part of the best strains in Canada you have to try Do Si Dos at least once! Just like the GSC, Do Si Dos has extremely high THC content. Do-Si-Dos is a well-rounded strain. It's enjoyable high and ability to manage a wide range of ailments are making this strain popular amongst a variety of different cannabis consumers. That type of versatility is important in today's market and is the reason why Do-Si-Dos is a strain to try in 2020.