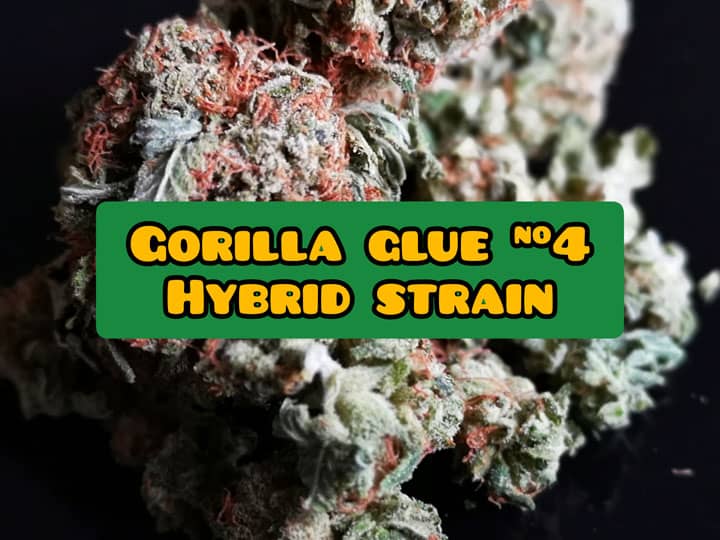 Gorilla Glue #4 aka GG4 Strain Info
Strain Description:
GG4 is also known as Gorilla Glue or Original Glue since they lost their trial against the eponymous Glue brand.  It has been developed by GG Strains. GG4 is really popular since it took first place in both the Michigan and Los Angeles 2014 Cannabis Cups as well as the High Times Jamaican World Cup, this multiple award-winning hybrid's supremacies is no longer a secret!
Genetics:
GG4 is an Indica dominant hybrid (60% Indica/40% Sativa) strain created through crossing the classic Chem Sis, Chocolate Diesel & Sour Diesel strains.
Potency:
The Original Glue is famous for its high THC content. It averages 18 to 25 percent THC, but you may find it as high as 32 percent at some dispensaries. The CBD is very low, ranging between 0.05 and 0.1 percent.
Appearance:
This version of Gorilla Glue #4 is offered by Herbapproach
Gorilla Glue buds have small round dark olive green nugs with purple undertones and a super frosty coating of tiny white crystal trichomes.
Aroma:
The aroma is very strong and is mostly diesel with notes of chocolate and coffee, although sweet and earthy is also used to describe it.  GG4's distinctive smell and flavor also come from the bud's high levels of the terpenes myrcene and pinene.
Flavor:
This bud has a super sour diesel chemical flavor that's incredibly harsh and sticks to your tongue long after you finish toking. This isn't to say that it tastes bad, but it certainly doesn't have the diversified pallet many other strains have.
Effects:
Gorilla Glue #4 is equally popular in the medical user community as it is recreationally.
Recreational Effects: you will experience the typical effects of most OG varietals with an early onset of a euphoric rush and a gentle relaxation easing in thereafter for up to several hours.
Medicinal Benefits: Gorilla Glue #4 is not for serious medical conditions such as seizures, cancer, and central nervous disorders. It is good for mild and moderate conditions such as headache and insomnia. The indica provides sedating effects for painful disorders like arthritis and slipped discs. GG4 may also help for Depression, Insomnia, Muscle Spasms, Nausea…
Flowering time & Yield:
Gorilla Glue's flowering time of 8-9 weeks is fairly standard. When grown indoors, you can get up to 18 ounces of weed per square meter planted. If you grow outdoors in dry and sunny conditions, you could achieve a bountiful harvest of 21 ounces per plant. A GG4 plant usually is ready for harvest in mid-October.
Buy Gorilla Glue #4:
GG4 is one of the most popular weed strains in 2020 Canada. It might be hard to find it at your local dispensary but you can find it in the most popular online dispensaries in Canada. You can find it with different weed grade but if you want to fully enjoy it's effects and aroma you have to buy it with the AAAA grade. This is why we choose Herbapproach for this strain, if you want to buy it check Herbapproach: Gorilla Glue #4. Don't pay full price and take a look at Herbapproach Coupons before buying.
Gorilla Glue #4 Strain Overall Score
Notation
Appearance 8/10
Aroma 8/10
Flavor 7/10
Effect 9/10
Final Score: 8/10
Final Thoughts
The GG4 is currently one of the most popular weed strains in Canada and that can easily be explained by its really high THC content, which can go up to 30% for the most potent batch. If you never tried GG4 before this is a must-try especially if you are adept at strong Indica Dominant Hybrid. This strain is ideal for night time use, due to its high THC content it has great sedating and relaxing effects.