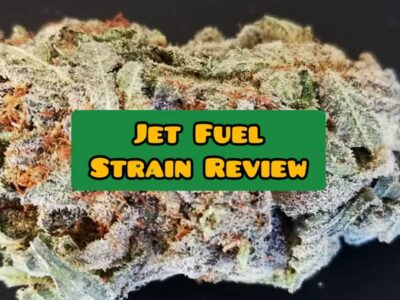 Strain Description:
Jet Fuel is a pungent sativa-leaning hybrid whose aggressive name serves as a fairly accurate description of its fast-paced Sativa high. Also known as G6, it was created by Colorado-based breeders 303 Seeds. Jet Fuel's cerebral intensity is well suited to situations that call for deep creative thinking and problem-solving.
Genetics:
Jet Fuel, also known as "G6," is a Sativa dominant hybrid (70% sativa/30% indica) strain created through crossing the Aspen OG and High Country Diesel strains.
Potency:
With its powerful 17-19% average THC level and soaring effects, Jet Fuel is often said to be the "cocaine of marijuana."
Appearance:
This version of Jet Fuel is offered by Weed Deals
Jet Fuel consists of plump and fluffy buds that definitely look similar to Diesel strains. As a result, the appearance of Jet Fuel strain has wintergreen leaves, shadowy orange hairs, and apparent trichomes.
Aroma:
The flavor is incredibly pungent with a diesel overtone accented by sweet skunk. Jet Fuel's aroma is even stronger, with a pungent diesel effect topped with sweet skunk and pine.
Effects:
This strain provides strong Indica effects with a hint of Sativa. you can expect the following effects from OG Kush:
Recreational Effects: You'll feel euphoric and uplifted with a sense of tingly cerebral energy that can leave you super giggly at times. . Cerebral, Energizing, Euphoria, Focus, Giggly, Happy, Uplifting are the effects you can expect from OG Kush weed.
Medicinal Benefits: Jet Fuel is often a patient choice for treating chronic fatigue, migraines or tension headaches, chronic stress, mood swings, and depression.
Flowering time & Yield:
Patients and consumers looking to cultivate Jet Fuel themselves should wait for 9 to 10 weeks for their indoor plants to finish flowering. The yield of this plant when indoor is about 14 ounces per square meter.
Buy Jet Fuel Strain:
Jet is one of the popular weed strains in Canada in 2020. If you cant find it in your local dispensary you can always find it in the best online dispensaries in Canada. Weed Deals carries some at the moment: Jet Fuel. Don't pay full price and take a look at WeedDeals Coupons before buying.
Jet Fuel Strain Overall Score
Notation
Appearance 7/10
Aroma 8/10
Flavor 7/10
Effect 8/10
Final Score: 7.5/10
Final Thoughts
Jet Fuel or G6, is a well known marijuana strains all over the US and Canada. The sudden burst of energy you feel is joined by a cerebral high that is exhilarating and euphoric. In some cases, the munchies will make an appearance, so be sure to have snacks ready for the feast. Even though its THC is not the highest on the market it is still a great weed strain for daytime use!