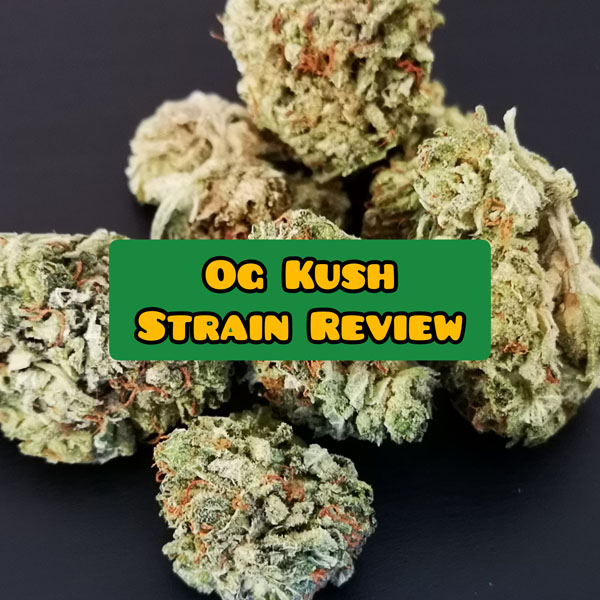 Strain Description:
OG Kush was first cultivated in Florida, in the early '90s when a strain from Northern California was crossed with a Hindu Kush plant from Amsterdam. The result was a hybrid with a unique terpene profile. OG Kush has become a worldwide staple used to create numerous famous strains like GSC and Headband. There are many different phenotypes of OG Kush, including Tahoe OG, SFV OG, and Ghost OG.
Genetics:
OG Kush genetics are not 100% known but this hybrid is most probably a descendant of a female Chemdawg plant and a male Hindu Kush plant. This Indica Dominant strain has a 25:75 sativa/indica ratio.
Potency:
THC concentration for OG Kush can reach levels as high as 19-24%.
Appearance:
This version of OG Kush is offered by Speed Greens
This AAA grade OG Kush has buds covered in trichomes that lend them a silvery-white appearance and make them very sticky to the touch. OG Kush has medium buds that have a dense, indica-like structure. When prepping buds for a joint or a pipe, users may want to use a grinder as it is really sticky.
Aroma:
Buds have an earthy scent that is accented by some citrusy brightness: the overall impression is of a hoppy craft beer. Burning or breaking open the buds offers more of a pine-like odor. The smoke tastes hashy and spicy like a classic Indica on the inhale and exhale.
Effects:
This strain provides strong Indica effects with a hint of Sativa. you can expect the following effects from OG Kush:
Recreational Effects: Expect a hard, mixed high with intense euphoria followed by serious couch-lock. Body High, Energizing, Euphoria, Happy, Hungry are the effects you can expect from OG Kush weed.
Medicinal Benefits: The cerebral boost from OG Kush is ideal for depression, bipolar disorder, and anxiety, while the heavy body high can help with pain and nausea.
Flowering time & Yield:
Patients and consumers looking to cultivate this cannabis strain themselves should wait for 8 to 9 weeks for their indoor plants to finish flowering. The yield of this plant when indoor is about a pound per square meter.
Buy OG Kush Strain:
OG Kush is one of the most popular weed strain in Canada so you should be able to find easily. If you cant find it in your local dispensary you can always find it in the best online dispensaries. SpeedGreens carries some at the moment: OG Kush. Don't pay full price and take a look at SpeedGreens Coupons before buying.
OG Kush Strain Overall Score
Notation
Appearance 7/10
Aroma 8/10
Flavor 7/10
Effect 7/10
Final Score: 7.25/10
Final Thoughts
OG Kush is a legendary strain with a name that has recognition even outside of the cannabis world. Because of its mildly energizing and uplifting effects, OG Kush is a strain best enjoyed in the daytime or early evening. OG Kush has been a building block, yielding successful crossbreeds like Bubba Kush and also offering up some distinct phenotypes that have become popular strain in their own right, like Tahoe OG, SFV OG, and other OG Strains!