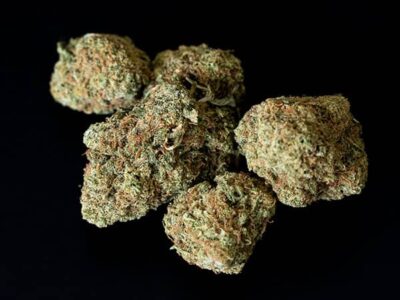 Strain Description:
Romulan is a legendary strain that pays homage to the Star Trek series and refers to the hostile alien race when people began joking that this strain could "dent your head" and create ridges like the warrior race. Well known for its potent narcotic, users may not be able to move from their chair for a long long time.
Genetics:
Romulan is almost a pure indica (90%) with a small amount of the sativa-dominant White Rhino hybrid (10%), but its full origins are a mystery. We just know it was bought in 1996 by Federation Seeds as a completed strain.
Potency:
Romulan has a strong potency of 20-24% THC average. Even experienced users should monitor their dosage to avoid unwanted effects.
Appearance:
This version of Romulan is offered by Supherbs
The buds of this Indica dominant strain are tight and dense and look like little condensed rocks strewn with white trichomes. The leaves are mainly at the root and not very present on those buds. We can easily see the rust-colored trichomes on the entire surface of the flowers.
Aroma:
Romulan has a very pleasant sweet earthy smell and taste, with hints of pine and citrus. Even if its aromatic profile is not all that unique, we like a lot its very fragrant scent which stays a long time.
Effects:
This strain provides strong Indica effects with a hint of Sativa. You can expect the following effects from Romulan :
Recreational Effects: With its strong potentcy, Romulan is definitively cerebral with a surge of euphoria and creativity that turns into relaxation that plunges into sleep and a powerful rest. This variety is cerebral, euphoric, relaxing and sleeping.
Medicinal Benefits: It's most effective in treating insomnia, lack of appetite, chronic aches and pains such as migraines, fibromyalgia or muscle spasms, stress and anxiety disorders, depression, PTSD and various stomach problems.
It can be overpowering if used in high concentrations, with possible dizziness, paranoia, and headaches.
Flowering time & Yield:
Romulan is relatively easy to cultivate, even for beginners or novices that have little to no experience with marijuana. The flowering time is around 8 to 9 weeks for their indoor plants. Outdoor harvests can be expected around the middle of October. The yield of this plant when indoor is about 9 ounces per square meter while outdoors ranks at 9 ounces per plant.
Buy Romulan Strain:
Romulan is part of the popular strains in Canada 2021, it should not be a problem to find it or other strains that have been made out of it. However, if you are looking for a fair price you should take a look online and buy from the best online dispensaries in Canada. Supherbs carry this strain quite often so you should take a look at their online dispensary. Before buying from them take a look at our Supherbs Coupon Codes to get the most out of your bucks!
Romulan Strain Overall Score
Notation
Appearance 9/10
Aroma 9/10
Flavor 9/10
Effect 9/10
Final Score: 9/10
Final Thoughts
Not recommended for a day consumption, Romulan is a strong strain that you can smoke to treat a lot of disorders, especially relative to the stress, chronic pains, depression, etc while waiting for a good restful sleep. Very appreciated by experimented users, it's an indica-dominant unmissable to try!